Scorpion OCP Uniforms
There are certain features that have been changed or added in the new uniform that give the Army and USAF personnel opportunities to blend more effectively into a variety of environments. To protect the military while they are in the field, TRU-SPEC and Propper have designed AR 670-1 compliant uniforms that meet and exceed the specifications that are outlined in the DA Pam 670-1.
Why is the Air Force OCP Uniform and Army Combat Uniform Changing?
Over the years the combat uniform patterns have changed for the Air Force and Army. With the desire to have a standard camouflage pattern, the Air Force has adopted the Army-approved Operational Camouflage Pattern (OCP). This adoption of the Scorpion W2 pattern celebrates the warfare connection that the Air Force has with the Army and gives additional protection to the Airmen
Both Airmen and Army soldiers have voiced concern about the fit, comfort, and safety features of their utility uniforms. A main concern for the Air Force is the ABU uniform's pattern and features. After much feedback and testing, it was found that the current digital Tiger Stripe ABU does not have the level of concealment as the Scorpion W2 pattern does. This discovery solidified the need to execute the transition in uniform camouflage patterns.
For the Army, uniforms with the OCP pattern, or Scorpion W2 pattern, became available for purchase starting in July 2015. It will be their required ACU camo pattern on October 1, 2019. Until the Mandatory Wear Date Army soldiers can wear combinations of UCP, OCP, and OCIE (all components will be the same camouflage pattern). On October 1st, 2019 it will be mandatory to wear the OCP pants, Tan T-shirts & belts, Coyote Brown boots for their combat uniform.
Starting in late 2018 Airmen could purchase OCP's at a variety of bases and around October 2019, Air Force OCP uniforms will be commercially available for purchase online. As of June 1st, 2020 Coyote Brown boots, DLA issued green socks and Tan T-shirts must be worn when wearing their utility uniform. The USAF OCP uniforms' Mandatory Wear Date is April 1st, 2021, in addition, all patches must have a Spice Brown background.
MultiCam vs Scorpion Camo
The OCP military uniform has a six-color palette and smooth lines, allowing its camouflage to better blend into various environments. The pattern resembles MultiCam with muted greens, light beige, and dark brown colors, but uses fewer beige/brown patches and no vertical twig and branch elements.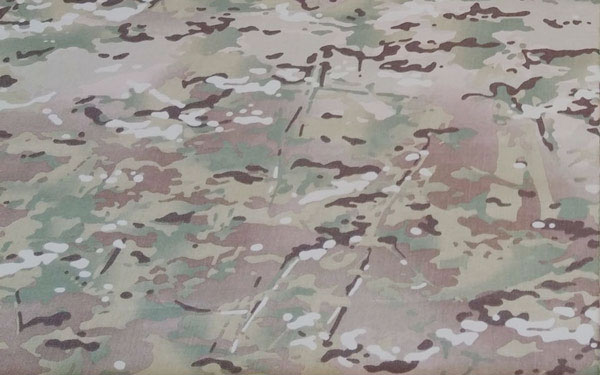 Multicam Pattern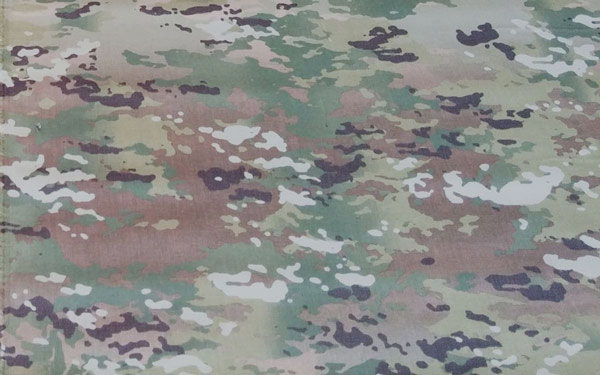 Operational Camouflage Pattern (OCP)
Not only has the OCP camo changed, but many features of the uniform construction have also been updated.
OCP Uniform Features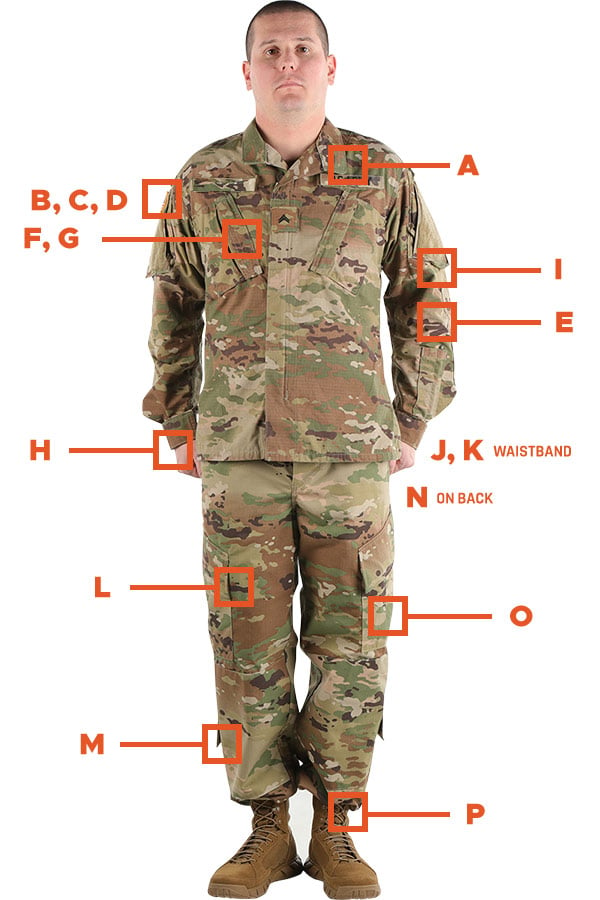 A. Traditional fold down collar for professional appearance
B. Lengthened upper sleeve pockets with covert zipper closure
C. Hook & Loop face for patch placement
D. Glint tape above pockets
E. 2-channel pen stalls
F. 2-slanted chest pockets with hook & loop closure and fasteners for name tape
G. Zippered front pocket with hook & loop closure and rank tab loop on center placket
H. Button cuff closure with 3-button hole positions
I. Reinforce elbows
J. Trouser waistband with traditional button fly
K. 7-sturdy belt loops
L. 2-easy access slanted cargo pockets with button closure & drain holes
M. 2-lower leg pockets
N. 2-back pockets with snag proof button closure flaps
O. Reinforce knees & seat
P. "Stay tied" drawstring leg ties
OCP Uniform Accessories
To complete the OCP Uniform, there are additional items that are needed. All the uniform requirements are listed in the DA Pam 670-1. Here are Galls we are proud to offer a large selection of OCP/Scorpion W2 clothing, including unisex OCP uniforms for women and men, as well as Coyote/Tan 499 colored components.
Some of the OCP Air Force and OCP Army uniform required components include:
Headgear - OCP

Coats/Trousers - OCP/Scorpion W2 Pattern

T-shirt - Coyote/Tan 499

Belt - Coyote/Tan 499

Boots - Coyote Brown
One of the best OCP-approved boots is the Nike SFB Gen 2 Lt Boot. This Nike OCP boot is a uni-sex and is constructed with cushioned midsoles, breathability, and ample flexibility that provide wear equivalent to that of an athletic shoe.
Every Airman and Army soldier must wear a tactical belt. One of the most popular and cost-effective options is the Propper Tactical Nylon Belt. This belt has a molded belt buckle that easily adjusts and holds tight when you are loaded down with your gear. The heavy-duty 1.5" wide nylon belt withstands harsh treatment and long-term use.
Protecting the hands of our military is of the utmost importance. They demand and require the best assault gloves that are available. The Oakley SI Lightweight 2.0 Gloves are durable, flexible, and protect the knuckles and fingers while they are in the midst of battle. Built with carbon fiber knuckle plating and Oakley patented Unobtainium material these tactical gloves allow for optimal performance.
Galls is proud to offer our military the opportunity to get their OCP uniform components and Coyote Brown boots today. For more details about Army uniform regulations visit the DA Pam 670-1 and for the Air Force official wear guidance visit the AFI 36-2903, Dress and Personal Appearance guidelines.
Log In
Sign In
If you have an account with us please enter your user name and password below and we'll log you in!
Item Added to Cart!